Indian Goorghully - NEW
This coffee is Medium-Dark Roasted and can be brewed through an Espresso Machine or through a Filter/Cafetiere.
Aroma & Tasting Notes
Through an Espresso Machine
Brewing through an espresso machine, the aroma is of Chocolate and notes of Raspberry. On tasting, Raspberry with notes of Caramel first, a beautiful Chocolate body which has undertones of cloves and has a lingering Chocolate aftertaste.
Overall a wonderful coffee with fantastic balance a real Indian coffee gem. Enjoy all day as an Espresso or Flat White to really enjoy the flavours of this truly special coffee.
Brewing ratio: 1:2
16 grams of coffee to 40 millilitres of water. Water temperature 93 degrees.
Through a Filter or Cafetiere
Brewed this way, the aroma is Chocolate with hints of Raspberry. On tasting, Raspberry acidity at first sip, creamy Caramel with hints of Clover through the body, and a sweet Milk Chocolate aftertaste.
Overall a pleasant balance of brightness and sweetness. Works well all day, best served black with no sugar or milk.
Brewing ratio: 1:19
20 grams of coffee to 380 millilitres of water. Water temperature 92 degrees, brew for a minimum of 3 minutes.
More about this coffee and where it comes from….
This wonderful Indian coffee comes from the Hassan district of Karnataka, South India. The region is characterised by gentle sloping terrain and is home to a number of species of jungle fowl.
Karnataka means 'elevated land'. Its capital City is Bangalore and it contains 30 districts, it has its own High Court and a population of 61 million (2011). The official language of Karnataka is Kannada and the state has a literacy rate of 75.6%. Bangalore is also the location of the offices of Allanasons Ltd from whom almost all our Indian coffees are purchased such as Indian Monsooned Malabar and Indian Mysore.
The history of coffee in India begins with Baba Budan who is one of the Saints of Karnataka. He is legendarily reputed to have smuggled seven coffee beans from the Yemeni port of Mocha hidden within his clothes. When he arrived home he planted the seeds in the Kadur District on the slopes of the Chandra Giri hills. These hills are now called the Baba Budan hills and his tomb is located there to this day.
All Indian coffees are shade-grown with the upper-canopy of the original jungle trees being 100 feet tall or more. The lower-canopy is maintained and pruned by estate staff and is used to control the amount of sunshine and rain reaching the coffee bushes below. The overhead canopy is a sanctuary for birds and also improves the quality of the soil because of the falling leaves which add natural organic matter. Shade trees also reduce the growth of weeds and the likelihood of damage to the coffee bushes from insects, pests and fungi. The majority of Indian coffees are handpicked and sun-dried after removal of the cherry pulp. Sun-drying is considered to enhance the flavour of the beans. Once dried the coffee is then graded.
This coffee is naturally pulped (honey process), this is a method in which the fresh coffee cherries are de-pulped, but allowed to dry without fermentation or washing. Some of the fruit is still there, but not nearly as much as in the natural process. In the cup, Honey coffees tend to be more complex than their washed coffees.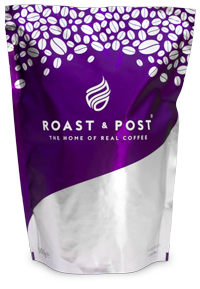 The Roast & Post Coffee Co. ®
Bridgeview House, Redhill Lane,
Elberton, Bristol,
South Glos. BS35 4AE. UK
t. 01454 417147
f. 01454 417774
e. sales@roastandpost.com
Registered in England No. 4387161.
Registered Office As Above
VAT Reg. No: GB 791 3864 93