Brazilian Oliveira - NEW
This coffee is grown across two farms - Fazenda Estrela and Fazenda Recanto, located in the Serra do Salitre in the Minas Gerias region of Brazil. The farm was started back in 1988 by Seu Zico, a charismatic figure who sowed the first coffee seeds himself in the soil of what is now known as Vinhal Café's Artesanais. It's a family-run business that Paulo Afonso took over when his father Seu Zico passed away, alongside his wife Marceila. Paulo Afonso manages the farm whilst his wife Marceila is in charge of managing the post harvest micro-lots. Their son Rafael Afonso is now fully involved with the business and is in charge of commercial development of the farm. All the family are very passionate about coffee.The farm is 200 hectares and the farm has been placed 8th in previous Cup of Excellence awards.
The coffee is grown at an altitude of 1050 to 1150 metres above sea level, and for this lot only the cherries that have already started drying on the trees are selected, which are called boia which helps provide a richer, fuller flavour.
Tasting Notes
This is a rich full flavoured coffee. The taste profile is Tropical Fruits, Dark Chocolate, Almonds and Caramel. The coffee is Medium-Dark roasted so can be brewed through a Bean-to-Cup machine, Filter or Cafetiere. It can also be brewed as a lighter Espresso.
Click here to help decide which grind is best for you.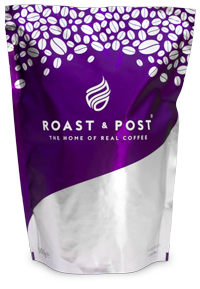 The Roast & Post Coffee Co. ®
Registered Office
7 Regent Street
Kingswood
Bristol
BS15 8JX
t. 01803 605993
e. sales@roastandpost.com
Registered in England No. 4387161.
Registered Office As Above
VAT Reg. No: GB 791 3864 93