We offer generous discounts if you order 2 or more 500g packs of coffee. This can be a mix of different coffees (excludes Gold Collection coffees).
Click here to find out more.
Fairtrade Olympic Blend
We have created a great blended Fairtrade coffee that can be brewed using a Filter method, Cafetiere or through an Espresso machine. The beans have been carefully sourced from Fairtrade coffee farmers in Central and South America. We have combined Fairtrade Brazilian Santos, Costa Rica and Colombian beans from small-holder farmers, and using our expertise we have mixed these coffees to give you a complex flavour profile, which develops and changes whether you make a black, or milk based drink. When served black, you can really appreciate the fruit flavours and cocoa body.
As an Espresso: the flavour profile is of Honey, Caremel and Digestive Biscuit (we recommend 18 grams of coffee to extract 36 millilitres of espresso).
As a Filter / Cafetiere: the flavour profile is of Blood Orange, Cocoa and Blackcurrent (we recommend 20grams of coffee to 320 millilitres of water).
Click here to help decide which grind is best for you.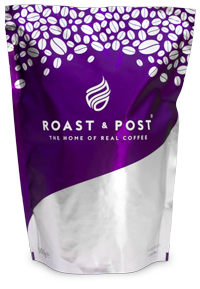 The Roast & Post Coffee Co. ®
Registered Office
7 Regent Street
Kingswood
Bristol
BS15 8JX
t. 01803 605993
e. sales@roastandpost.com
Registered in England No. 4387161.
Registered Office As Above
VAT Reg. No: GB 791 3864 93